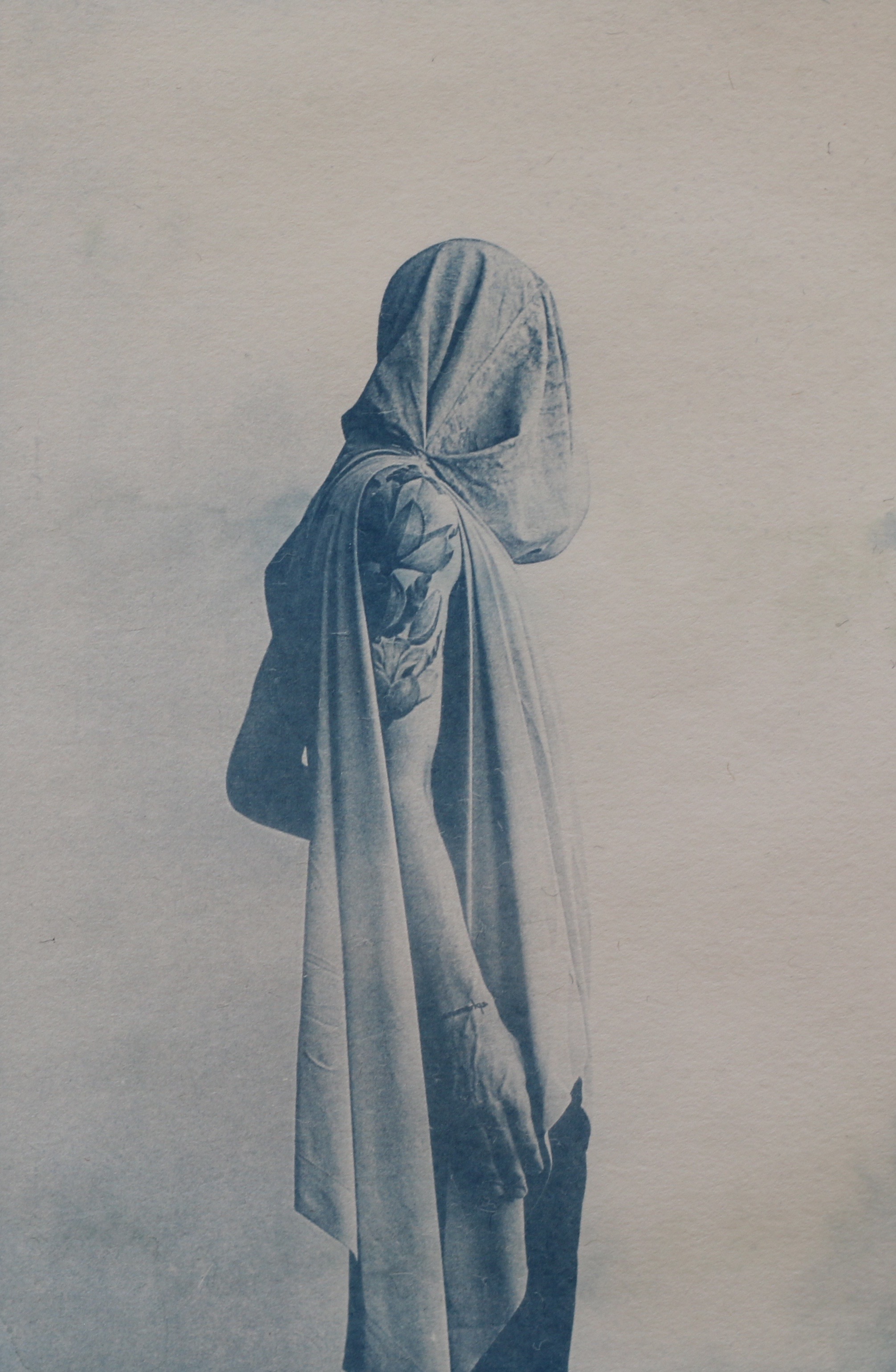 MARCUS APPELBERG

*1990 KARLSTAD
BASED IN MÖLNDAL
MARCUSAPPELBERG@LIVE.SE
+46 72 503 31 90
APPELBERG'S MAIN FOCUS IS PAINTING, WHERE AN INTEREST FOR DRAPERIES AND FASHION IN RELATION TO IDENTITY AND THE BODY HAS BEEN A FOCUS FOR THE LAST YEARS. DRAPERIES AND FOLDS THAT ACTS LIKE BORDERS BETWEEN GARMENT AND FLESH, FASHION AS ARMOUR AND IDENTITY BEARER AND, PERHAPS MOST IMPORTANTLY, AS A MEANS OF CHANGING THE PERCEPTION OF SELF AND BODY.
APPELBERG IS BORN IN KARLSTAD IN 1990, RAISED IN JÖNKÖPING AND CURRENTLY BASED IN MÖLNDAL. HE STUDIED PAINTING AT DÔMEN KONSTSKOLA IN GOTHENBURG FOLLOWED BY A MASTER IN FINE ART AT UDK BERLIN BEFORE MOVING BACK TO GOTHENBURG TO TAKE AN ADDITONAL MASTER IN FINE ART AT VALAND ACADEMY, GRADUATING IN 2019. PARALLELL WITH STUDYING HE CO-FOUNDED ÖSTERÄNGENS KONSTHALL IN JÖNKÖPING, AND HE IS NOW A BOARD MEMBER OF ARTIST RUN GALLERY BOX IN GOTHENBURG AS WELL AS ORGANIZATION KONSTNÄRSCENTRUM VÄST. THROUGH THESE AND OTHER HE WORKS AS A CURATOR, CONSULTANT AND PROJECT LEADER AS WELL AS WRITING ART CRITIQUE FOR OMKONST. HE ALSO WORKS PART TIME AS DEVELOPER FOR PUBLIC ART AT REGION HALLAND.
APPELBERG'S WORK IS REPRESENTED AT STATENS KONSTRÅD, JÖNKÖPINGS LÄNS MUSEUM, REGION JÖNKÖPING, JÖNKÖPINGS KOMMUN, ÖSTERSUNDS KOMMUN, SÖRMLANDS LANDSTING, VÅRA GÅRDAR, AND MORE.
SELECTED PRESS
︎︎︎
CURRICULUM VITAE

EDUCATION


MFA FINE ART, HDK/VALAND, GOTHENBURG, 2017-2019
CURATING, ZENTRALINSTITUT FÜR WEITERBILDUNG, UDK BERLIN, 2017
MEISTERSCHÜLER BILDENDE KUNST, UNIVERSITÄT DER KÜNSTE BERLIN, 2012-2017
PAINTING, DÔMEN KONSTSKOLA, GOTHENBURG, 2010-2012
ART HISTORY, JÖNKÖPING UNIVERSITY, 2010


EXHIBITIONS


2023
HÄRKE KONSTCENTRUM, ÖSTERSUND

2022
STRIPPING THE SURFACE WITH MAJA SIKORSKA, ARTWORKS.SE, ONLINE

2021
GESTURES, C:NEN, ÖSTERSUND
GESTURES, KONSTNÄRSHUSET SVAVEL, JÖNKÖPING

2020
GESTURES, GALLERI SM ART, ULRICEHAMN

2018
FABRIC FALLS, CURTAIN CALLS, GALLERI ROTOR2, GOTHENBURG
SKÄRVOR WITH MAJA SIKORSKA, GALLERI HAMMARÉN, GOTHENBURG
BRA10 SURROUNDINGS WITH STACEY DEVOE, KONSTEPIDEMIN, GOTHENBURG
RE—STRAIN, KONSTVÄGGEN STADSBIBLIOTEKET, JÖNKÖPING

2017
STILL WALLS, GALLERI TEGEL, JÖNKÖPING

2015
WALLS, PONY ROYAL, BERLIN
VANITAS WITH MAJA SIKORSKA, TÄNDSTICKSGRÄND 24, JÖNKÖPING

2014
FRILAGRET, GOTHENBURG
NAU GALLERY SHOWROOM, STOCKHOLM

2013
ARTIFACTS OF SAUEN WITH ANASTASIA MANDEL, BASE MENT, BERLIN
NO MORE SHALL WE PART, MARQUEE BAR, BERLIN
REFLECTIONS, BREZELBAR, BERLIN


SELECTED GROUP EXHIBITIONS


2023
TRANSTONATIONS, EICAS, DEVENTER, THE NETHERLANDS
LIDKÖPINGS KONSTHALL

2022
SÖDRA VÄTTERBYGDENS KONSTRUNDA, KONSTNÄRSHUSET SVAVEL, JÖNKÖPING
KONSTNÄRSFÖRENINGEN DYMLINGEN, GALLERI RÅDHUSET, SÖDERKÖPING
LÄNSSALONG 2022, JÖNKÖPINGS LÄNS MUSEUM

2021
LJUS, GALLERI KC, GOTHENBURG
DYMLINGEN 50 ÅR, KONSTNÄRSHUSET SVAVEL, JÖNKÖPING
VAD ÄR NYTT, GÖTAVERKEN, GOTHENBURG
UDDEN SKULPTUR, HUNNEBOSTRAND
ELLIS EDEN - ETT RETROSPEKTIV, KKV BOHUSLÄN

2020
UNDER RÅDANDE OMSTÄNDIGHETER, SMÅLANDS KONSTARKIV VANDALORUM, VÄRNAMO
ELLIS EDEN - ETT RETROSPEKTIV, GALLERI VERKLIGHETEN, UMEÅ
FULL VISION 2020 - LÄNSSALONG, JÖNKÖPINGS LÄNS MUSEUM

2019
CASH BOX, GALLERI BOX, GOTHENBURG
GRÄNS, KONSTNÄRSHUSET SVAVEL, JÖNKÖPING
KONST ÅT ALLA, UPPGRÄNNA BYAGÅRD, GRÄNNA
THINGS WE WILL FORGET, GÖTEBORGS KONSTHALL
EN RÖD DETALJ, KONSTNÄRSHUSET SVAVEL, JÖNKÖPING

2018
FRAGMENTED BODIES, GALLERI ROTOR2, GOTHENBURG
HÖSTSALONG - KOMMUNENS KONSTINKÖP, TÄNDSTICKSMUSEET, JÖNKÖPING
SMÅLANDS KONSTNÄRSFÖRBUND 60 ÅR, SMÅLANDS KONSTARKIV VANDALORUM, VÄRNAMO
TRANSITION STUDIO, FLOTART FESTIVAL, EICKLINGEN
ON THE LOOKOUT - ART FROM THE COLLECTION, JÖNKÖPINGS LÄNS MUSEUM

2017
1KG, GALLERI ROTOR2, GOTHENBURG
FÖRLORADE PLATSER, KONSTNÄRSHUSET SVAVEL, JÖNKÖPING
GRADUATION SHOW, UNIVERSITÄT DER KÜNSTE, BERLIN
NOON, PROJEKTRAUM MESSING, BERLIN
HOMECOMING QUEEN, ÖSTERÄNGENS KONSTHALL, JÖNKÖPING

2016
KONST ENLIGT Ö.K., ÖSTERÄNGENS KONSTHALL, JÖNKÖPING
HÖSTSALONG, MÄRSTA KONSTHALL
GRADUATION SHOW, UNIVERSITÄT DER KÜNSTE, BERLIN
NO WALLS, FRIDAY EXIT, VIENNA

2015
KONSTSALONGEN, NÄSSJÖ KONSTHALL
BLACK & WHITE, SALON SZTUKI KREATURA, POZNAN
MANTRA, TÄNDSTICKSGRÄND 24, JÖNKÖPING
UNGDOMENS VÅRSALONG, JÖNKÖPINGS LÄNS MUSEUM

2014
LÄNSSALONG, VETLANDA MUSEUM
LEIKO IKEMURA'S XXVI, WIENSOWSKI & HARBORD, BERLIN
AB SOFORT: 2 ZIMMER MÖBLIERT, GALERIE WEDDING, BERLIN
IF IT FITS - KLASSE IKEMURA, TÄNDSTICKSMUSEET, JÖNKÖPING
UNGDOMENS VÅRSALONG, JÖNKÖPINGS LÄNS MUSEUM

2013
V: VIBRANT, VIGOROUS, VIVACIOUS, KULTURVINDEN, JÖNKÖPING
GAPS#1, FUNKHAUS GRÜNAU, BERLIN
MACHT KUNST, ALTE MÜNZE BY DEUTSCHE BANK KUNSTHALLE, BERLIN
UNGDOMENS VÅRSALONG, JÖNKÖPINGS LÄNS MUSEUM

2012
SOT, TÄNDSTICKSMUSEET, JÖNKÖPING

2009
UNGDOMENS VÅRSALONG, JÖNKÖPINGS LÄNS MUSEUM

2008
INBLICK, TÄNDSTICKSMUSEET, JÖNKÖPING
UNGDOMENS VÅRSALONG, JÖNKÖPINGS LÄNS MUSEUM


PUBLIC COMMISSIONS


2020
GESTALTEN, TEMPORARY INSTALLATION AT MUNKSJÖKAJEN IN THE PROJECT INTERFERENCE BY ÖSTERÄNGENS KONSTHALL, JÖNKÖPING



REPRESENTED


STATENS KONSTRÅD
JÖNKÖPINGS LÄNS MUSEUM
REGION JÖNKÖPING
REGION SÖRMLAND
JÖNKÖPINGS KOMMUN
ÖSTERSUNDS KOMMUN
GÖTEBORGS UNIVERSITET
VÅRA GÅRDAR RIKSFÖRBUND
JÖNKÖPINGS LÄNS KONSTFÖRENING
ULRICEHAMNS KONSTFÖRENING
KONSTFÖRENINGEN SPIRAN
VOLVO KONSTFÖRENING
NORDEA
VÄTTERHEM
PRIVATE COLLECTORS


SCHOLARSHIPS


2022
EXTRA KRISSTIPENDIUM, KONSTNÄRSNÄMNDEN

2021
KULTURSTIPENDIUM, ROTARY MÖLNDAL
KRISSTIPENDIUM 3, KONSTNÄRSNÄMNDEN

2020
KRISSTIPENDIUM 2, KONSTNÄRSNÄMNDEN
KULTURSTIPENDIUM, MÖLNDALS STAD

2019
TOBISON STIPEND, GÖTEBORGS UNIVERSITET

2018
ATELJÉSTIPENDIUM AT JÖNKÖPINGS LÄNS MUSEUM, REGION JÖNKÖPING
KULTURSTIPENDIUM, JÖNKÖPINGS KOMMUN

2017
JÖNKÖPINGS BORGAREKASSA OCH BJUGGSKA FONDEN

2015
LIONS CLUB JÖNKÖPING STIPENDIEFOND

2014
JÖNKÖPINGS BORGAREKASSA OCH BJUGGSKA FONDEN
HUSKVARNA STADS JUBILEUMSSTIFTELSE
TMG TABERG FIRST PRICE UNGDOMENS VÅRSALONG

2011
JÖNKÖPINGS BORGAREKASSA OCH BJUGGSKA FONDEN



PUBLICATIONS


ALLT FÖR KONSTEN, ÖSTERÄNGENS KONSTHALL, ISBN 9789198390414, 2020
RE: SEARCH, AKADEMIN VALAND, 2019
KONSTUPPSLAGET IN HALLPRESSEN CURATED BY KONSTFRÄMJANDET, 2019
STUCK IN THE MIDDLE WITH YOU, AKADEMIN VALAND, 2018
HOMECOMING QUEEN, ÖSTERÄNGENS KONSTHALL, 2017
EMPTINESS. SILENCE., TMG TABERG, 2014